https://www.abc.net.au/life/lemon-almond-cake-with-roasted-strawberries/12637098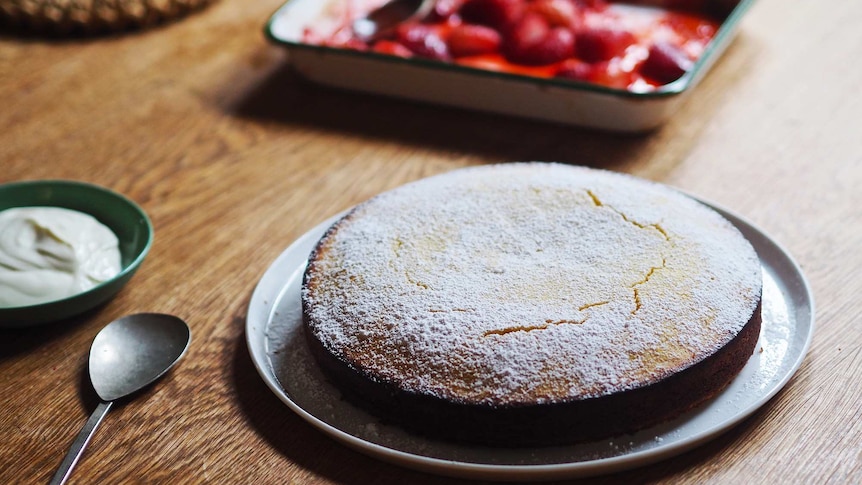 Simple to make, this lemon cake is extra special with roasted strawberries.(ABC Life: Julia Busuttil Nishimura)
I love cakes that are simple to put together and don't require any special equipment.
Mix and bake is usually my motto, and this cake is the epitome of that. It's lemony, bright and perfect for afternoon tea.
The trick with this cake is to rub the lemon zest into the sugar to draw out all of the oils from the lemon into the batter. It's also rather therapeutic to use your hands — win-win!
The beginning of spring is the first time we glimpse strawberries at the market, and here I've roasted them to intensify their flavour and also add a little something special to this cake.
Other fruits like plums, apricots or any stone fruit for that matter would be perfect here. Depending on their ripeness, they may take a little longer in the oven so be attentive as you want them to still hold their shape once roasted.https://www.youtube.com/embed/bpoKOEYROjA?feature=oembed&enablejsapi=1&origin=https%3A%2F%2Fwww.abc.net.auYOUTUBETry this easy lemon almond cake with roasted strawberries
Julia Busuttil Nishimura is a cook, author and teacher. Her work celebrates simple ingredients, seasonal produce and the joys of coming together at the table. She's the author of two cookbooks, Ostro and A Year of Simple Family Food. Julia lives in Melbourne with her husband, Nori, and sons, Haruki and Yukito.
Ingredients
Lemon almond cake150g caster sugarZest and juice of 2 lemons3 eggs1 tsp vanilla bean paste or extract150ml extra virgin olive oil100g natural yoghurt100g fine polenta150g almond meal130g self-raising flourRoasted strawberries250g strawberries, hulled and halved1 tsp vanilla bean paste or extractJuice and zest of half a lemon1 Tbsp caster sugarIcing sugar, to dustNatural yoghurt, to serve
Method
1.Preheat the oven to 180°C. Grease and line a 23cm round cake tin.
2.In a large bowl, combine the sugar with the lemon zest. Use your fingers to rub the lemon zest into the sugar until damp and fragrant. Add the eggs and whisk until combined, followed by the lemon juice, vanilla, olive oil and yoghurt. Add the polenta, almond meal and flour and whisk until just combined. Pour into the prepared cake tin and bake for 35-40 minutes, until a skewer inserted into the middle comes out clean. Leave to cool in the tin for a few minutes, then invert onto a rack to cool completely.
3.Meanwhile, combine the strawberries with the vanilla, lemon juice and zest and sugar in a small bowl and toss to coat. Arrange in a single layer in a small baking tray and bake in the preheated oven for 20 minutes or until the liquid is syrupy and the strawberries are soft but still holding their shape.
4.Dust the cake with icing sugar and serve with natural yoghurt and the roasted strawberries.