The Real-Life Philomena: 'You See So Much Hurt Caused by Anger'
Forced to give up her child for adoption as a teenager, the woman who inspired the Oscar-nominated film starring Judi Dench talks about forgiveness and keeping her faith.By Nolan Feeney
FEBRUARY 8, 2014SHARE
https://e7075e2ebd3ff2572b77afe199ecb190.safeframe.googlesyndication.com/safeframe/1-0-40/html/container.html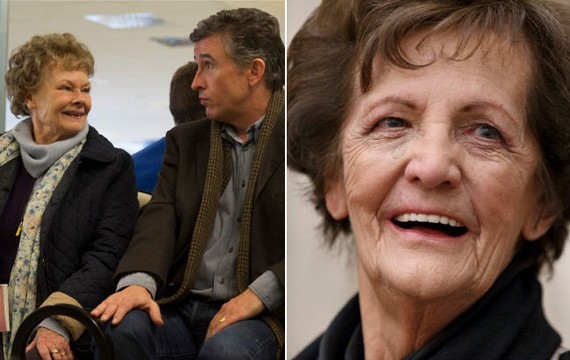 For decades, Philomena Lee didn't think there was anything interesting about her life story.
After becoming pregnant out of wedlock in Ireland in 1951, a teenage Lee was disowned by her father and sent to live and work in a convent alongside other unmarried mothers. When her son Anthony was three years old, the convent's nuns, in exchange for a generous donation, gave him up for adoption to Americans, who were told he was an orphan. A distraught Lee watched from an upstairs window as strangers drove off with her child.
https://e7075e2ebd3ff2572b77afe199ecb190.safeframe.googlesyndication.com/safeframe/1-0-40/html/container.html
For the next 50 years, Lee told nobody about Anthony. That's just how life went for sinners in the Catholic Church, she thought.
But one day, she told her secret to her daughter, Jane Libberton, who quickly began the search for Lee's long-lost child. It wasn't easy: Irish law makes it extremely difficult for adopted children to learn about their parents and birth records, and the nuns at the convent where Lee lived stonewalled her requests for information. Eventually, Libberton pieced together the identity of Anthony: Renamed Michael Hess by his American parents, he'd grown up to be a top attorney for the Republican National Committee.
RECOMMENDED READING
By the time Lee and Libberton solved the mystery, however, they were too late: Hess had died of AIDS in 1995. His ashes had been buried at the the convent at Hess's request—he hoped that his mother would return and find him. Just as the nuns wouldn't give Lee and Libberton any answers about what happened to Anthony, Hess himself had journeyed to Ireland to ask about his mother—with no luck.
Acclaim and Oscar nominations for Philomena, based off journalist Martin Sixsmith's book, The Lost Child of Philomena Lee, have brought international attention to the stories of Lee and the thousands of women just like her. Last month, Lee partnered with the Adoption Rights Alliance to launch The Philomena Project, which will advocate for changes to Ireland's adoption-records policies and help connect mothers and children separated by the country's history of forced adoptions. In late January, Lee, Libberton, and Mari Steed, U.S. coordinator of the ARA, traveled to Washington D.C. to meet with senators and diplomats about the project, and they spoke to The Atlantic about the film, faith, and forgiveness.
This interview has been condensed and edited.
https://e7075e2ebd3ff2572b77afe199ecb190.safeframe.googlesyndication.com/safeframe/1-0-40/html/container.html
---
When you started your journey a decade ago, did you ever think it would bring you to Washington?
Philomena: No way whatsoever.
Jane: When mom first met Martin, she didn't even really want it to be a book, did you? You didn't really want the story.
Philomena: Oh no. When I told my daughter after 50 years, I said, "No, I can't." Because I kept it a secret so long. No way. So then I just decided, well, look, if it can help a lot of mothers my age, I'm nearly 80—
Jane: You are 80!
Philomena: We were ostracized in them days because we had babies out of wedlock, because that was a very awful thing to do. Women my age kept it a secret and wouldn't tell their families. A lot of the babies born, their offspring, they're now looking for them. A lot of ladies my age still haven't come out to say it. So many people responded to the film, and a lot of them actually were women like me coming out. People like Mari and her colleagues have been trying for years to get the government in Ireland to give people rights to their records.
Is the project more about helping adopted children here connect with parents in Ireland, or about putting pressure on Ireland to change its policies?
Mari: Both. Some of the senators and congressmen we met are from the states where a lot of the babies were placed to—in Anthony's case, Missouri—so we met with Senators Roy Blunt and Claire McCaskill. Somebody might go to their local representatives and say, "I was born in Ireland and am a citizen here, what do I do?"
Likewise, we met the Irish ambassador [Anne Anderson] and it's the same thing. "If one of our citizens should happen to come to the Irish Embassy or call one of the consulates, would you be able to give them these resources and point us in the right direction?" We don't want to do any hard-hitting political lobbying, but we would like them to lend their voices and their support if at all possible. I think the response was very positive.
Jane: It was very positive! Obviously my mom and I have no experience of being here in Washington and meeting senators, that's like—
Philomena: Wow-wee!
Jane: We had no idea what to expect. Each and every one was different, but very positive. We felt like we were following in Anthony's footsteps because he worked in these buildings.
That must have been special.
Philomena: Very much so. This was his world.
Activists have said you'd need to drag Ireland to the United Nations to see these changes happen. Have you had more success going the political route than through the Church?"We're just telling the truth of what happened. It was never, ever from the start meant to be an attack on the Church."
Mari: Absolutely. With the Church, you really will get nowhere. I'm not saying that's a negative or a positive. That's simply what it is. They're not going to change their mind or suddenly change their policies. And not only that, but all of the records, as of this year, have finally been transferred out from under the ownership of Church agents and are now under the government's Health Service Executive in Ireland, so we've almost removed the Church from the picture, at least as far as the records are concerned. But I think eventually it may take a UN case similar to the Magdalenes cause in Ireland. We've got the right players, we've got people affiliated with the project. If we have to go that route, we will.
Have the ways the Catholic Church has changed in the past several decades made it any easier?
Mari: Yeah, not really. Their attitudes really haven't changed.
Jane: In Ireland.
Mari: Yeah, absolutely not in Ireland. Here in the States, we tend to get a lot more encouragement and sympathy. In Ireland, it's still this stubborn willfulness. They'd rather stay silent and take the bad press than issue apologies, because they know that will open them up to legal liabilities.
Jane: My mom still very much has her faith and is still quite protective of the Church, so you find it a bit awkward sometimes.
Philomena: Sometimes. You just believed everything you were told. You didn't query it, you just didn't query it. People would say, "Are you against the Catholic Church?" No, I'm not. At the time they did it, they took me in, they gave me a home for my baby. They gave us a home. It was the Church that caused all the problems because the Church made a baby out of wedlock a mortal sin. So we firmly believed we were sinners. That's the teaching of the Church.
Were you worried people would take an anti-Catholic message away from the movie?
Jane: I don't think we even thought about the Catholic stance at all, this is just my mom's story and what happened to her. Obviously people have come out and said, "This is an anti-Catholic film." It was never intended to be. This is what happened."People can't understand how I could have been so forgiving."
Philomena: No! It's my story.
Jane: There are other Catholic groups that are in support of it, [saying] that it isn't an anti-Catholic film because she retains her faith all the way through it. We're just telling the truth of what happened. It was never, ever from the start meant to be an attack on the Church. Steve Coogan [who plays Martin Sixsmith] says the same thing. He's from an Irish-Catholic family. He spent a lot of time with women my mom's age when he was a child. He never set out at all to make an anti-Catholic film. It's just different people who have different views. As mom said, yes, they did take her in. Where else would she have gone? But they kind of caused the problem in the first place. They were part of the solution, but they were part of the problem.
Did you feel surprised that so many people found your commitment to your faith inspiring?
Philomena: We did, actually. People can't understand how I could have been so forgiving. But I mean, Anthony would have been 61 last year. When he was adopted and taken away, I went to Liverpool, two years I stayed there, and then I went down and did psychiatric nursing for 30 years. Now, you don't work in a psychiatric hospital and not see some awful, sad faces. You see so much hurt and pain caused by anger. I was angry in the beginning, and I used to think, why did this happen to me? And then nursing the patients, sitting down and talking with them, helping them with their problems—it made my own slide into the background. I've seen so much hurt caused through anger. And I thought, "I couldn't go through my whole life being angry." It's just not in my nature to be angry. I was upset and very sad and very hurt. But I just went on with life and got married and had children. Working with psychiatric patients, it helped me to heal a lot of the pain I had.
One of the most powerful scenes in the movie is the moment of forgiveness near the end. Steve Coogan, as Martin, seems confused by it, asking, "Just like that?" But Judi Dench, as you, says it actually takes everything inside you to forgive.
Philomena: When my daughter first found out about this story, she was very angry, and I think Steve Coogan took on her anger.
Jane: Martin was a political journalist, and he wasn't particularly angry. He's seen all sort of things in his career. Steve asked a particular question of whether you forgive the nuns, and you did. I said, "I don't," so he took the anger and put it in his character. Martin wasn't an angry character, he was a journalist.
Were the nuns as big of an obstacle in learning about Anthony as they appeared in the movie?
Jane: When we went the first time, they didn't help. They were very pleasant very nice.
Philomena: Lovely.
Jane: We sat down to tea like this. We knew Anthony's grave was there. But they didn't give us any information about the American side of things. When we went back the second year, I'd said we found Anthony's partner and we found Mary, who was adopted with Anthony, and then they went to the cupboard and gave me papers they could have given me before. Without those papers, there never would have been a book. They just weren't helpful."We were ostracized so much. We had to lose our identities. I wasn't Philomena Lee anymore. I got a name called Marcella. For three and a half years, I was Marcella."
Did they not fully understand?
Jane: Oh, they understood. [The character] Sister Margaret was [based off] the present-day nun we met with Martin. She was delightful. She's English like I am, so she knew where I was coming from, because in the United Kingdom, at 18 years old, you can find out your history if you're adopted. In Ireland, you can't. I didn't get angry with her. I was angry, but I didn't shout out her like Steve Coogan shouts at Sister Hildegard [in the movie]. She knew exactly what I meant when I said, "To me, what you're doing is completely wrong." She did sit there kind of stony-faced. She was in the position where she felt she couldn't give me the information because that's what she'd been taught by the Church. And we're only talking about seven years ago. It wasn't a long time ago.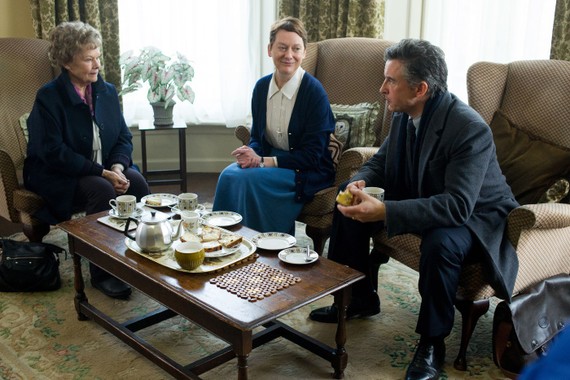 Did you have a sense of how widespread this was?
Philomena: You mean everybody having babies? Women having babies?
The forced adoptions across the country, I mean.
Philomena: I was a teenager at the time. I didn't know anything about that. I didn't know about babies being gone abroad and getting donations for them. I didn't know the first thing about that. How would we know? The nuns wouldn't tell you. We were Catholic, we went to church, we went to mass, that's all we did. I worked in the laundry for three and a half years.
Mari: There were many Irish families who might have had a mother and baby home just up the road and didn't even know it. They just knew it was the nuns who ran their business. Nobody really knew what went on behind the walls or dared ask. I think they had an inkling, it just wasn't discussed.
Philomena: And often the mother's parents were glad to get rid of you, because it was such a shame on them. We were ostracized so much. We had to lose our identities. I wasn't Philomena Lee anymore. I got a name called Marcella. For three and a half years, I was Marcella. Some of the women now come forward and say, "Did you remember me when I was there?" I wouldn't have remembered them because they'd have another name. From the day I went in till the day I came out I was Marcella, not Philomena Lee."And the whole of my life, all I wanted was to find him. Finding out he was dead was very hard, but at least I found him."
Tell me about the first time you told Jane about Anthony.
Philomena: I go home to Ireland every year. I call it home still even though I've lived 56 years in England. My brother, he was a young lad. He was 18 months older than me when I went to the home. He drove me when they discovered I was pregnant. He bounced him on his knees and hugged him and loved him. My father was out signing papers with the nuns—in them days you didn't query what they were doing—and my brother was out with me in the halls. For years he felt so guilty. "I should have run away with him." But with the police, the guards, we call them guards in Ireland, [he] wouldn't have gotten away with it. I went home in 2003, was it? He said, "For goodness' sake, go back home and tell them." My son is older than Jane. I went home and sat them down and told them.
Jane: Well, you told me. You came out to see me. I'd just moved house and renovated it. And my mom, you'd [just] been to Ireland, and you said, "Oh, I'll pop around and see you." It was slightly unusual because we normally meet in the day, and you were feigning interest in my decor. I just had some new light switches. I remember it very clearly. You looked at them said, "They're very nice." You're not really into that kind of thing.
Philomena: Not decorating, no.
Jane: So she sat down, and we did open a bottle of wine, and she just came out with it. "I had a baby in Ireland," I think is what you said. But immediately I knew who this child was because we always had his photograph in with all the other family photos. He always looked like he was in an odd place because he's got nuns with him, or he looks like he's in a hospital. I had asked you once when I was a child, and you said it was a cousin's son, and I didn't think anything more of that. But I felt immediately sorry for her, because I've got children, and he was three and a half when he was adopted. I couldn't imagine having to give a child away at that age. It would just be awful.
Philomena: Awful, awful.
Jane: Clearly you would have bonded with him because they're little people at that age.
Philomena: He was a lovely, lovely little boy.
What was it like seeing the movie for the first time?
Philomena: We didn't know what to make of it, did we? We saw it together.
Jane: It was very hard to judge whether it was good or not because we'd been so involved in it. We met the next day at lunch and I said, "I think it's okay? I think we'll be alright with this film." But we couldn't tell. People asked me if it was good and I said, "I don't know. I couldn't tell you if it was good."
Philomena: We couldn't!
Jane: It took a couple viewings. Then it went to the Venice Film Festival and received such fantastic reviews. I started reading the reviews to mom, and we could see why people liked it. But it took other people to point us in the right direction.
But you've come to enjoy it?
Jane: Yes, we certainly laughed.
Philomena: Oh yes, it's very funny.
Jane: Life's not all doom and gloom.
It was already such a tough, emotional movie to watch, it would have been a lot harder without those funnier moments.
Philomena: The thing is, I found him. And the whole of my life, all I wanted was to find him. Finding out he was dead was very hard, but at least I found him. I used to think over the years he could be in Vietnam, he could be on Skid Row. It's the not knowing. But once I found out how successful he was, then I was able to put my heart to rest and my mind to rest. At least he had a very good life and a wonderful partner. And I'm sure, up there, he helped me to start this 10 years ago. I believe that.
Mari: He'd be so pleased.
Jane: I think he'd be pleased, being a political man.
Philomena: I'm sure he is. The thing is, I'm sure because about one year [before finding him], maybe less than that, I started going back to mass. I had given up going to mass and communion and confession. Somehow or another I said, "I think I'll start going back." I went to mass at the beautiful abbey near where we lived. They had a Catholic mass every Friday morning. I joined that and got back in there, and I'd go down and light my candle in this beautiful place. Somehow after this, my brother said to me, "Will you go back home and tell your daughter?" after I started [getting that] feeling. I'm sure Anthony was up there.
Nolan Feeney is a former producer for TheAtlantic.com.