There are several good movies Peter and I have been watching recently online. And there are some other films from this year's Berlin Film Festival (Berlinale) that also do look quite interesting to me.
 High Ground-Official Teaser Trailer 
Set in the 1930s, 'High Ground' is inspired by true events. It goes back some 12 years to a massacre of an Indigenous tribe in Northern Australia. It says: ". . . the film explores the nature of loyalty and the ability to distinguish freely between right and wrong, in opposition to the dogmas of the age in which you live."
The Roads Not Taken': Berlin Review
". . .  a father and daughter struggling with his dementia."
This tale is set in present-day Berlin. A refugee is illegally crossing by boat from Africa to Europe.
The above three movies were shown at the Berlin Festival.
The following two movies I watched with Peter online. We both liked them very much!
Mr Stein Goes Online / Un profil pour deux (2017) – Trailer (English Subs)
81 year old Mr Stein (Pierre) gets a computer, and his life changes!
Pierre has heart trouble and often gets back pain. His daughter comes in to look after his needs. So there are some similarities to the way my 84 year old husband lives. The movie is set in Paris, which we loved! Alas, the computer gives Pierre a new lease of life . . .
There is something else in this movie that I find of special interest, namely how one of the characters in the movie struggles to become a writer, and how success beckons by interpreting the events in his own life and writing about it!
It is a love story even though the marriage breaks up!
This is a very interesting story about the break up of a marriage in America. I think the husband likes everything about his wife, and he very much loves their little son. But to the great disappointment and heartache of the wife, the husband is not exactly faithful anymore. Both have demanding jobs. They do not want to live together anymore. He works in New York, she works in Los Angeles. In the end they come out of a very expensive divorce  still being good friends and having good family relationships!
I want to copy here, a write-up about this very interesting father/daughter relationship in 'The Roads not taken'.
"Javier Bardem and Elle Fanning shine as a father and daughter struggling with his dementia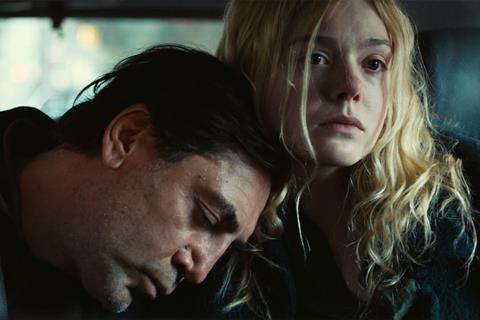 Dir/scr: Sally Potter. UK. 2020. 85mins
The game we all play of wondering where we'd be if we'd taken different forks in life's journey provides the narrative bedrock of Sally Potter's new film, which pairs Javier Bardem and Elle Fanning as a dementia sufferer and his journalist daughter having a bad day in New York. But two bravura performances can't disguise the thinness of a script that exposes just how uninteresting this 'sliding doors' game can be. The Roads Not Taken redeems itself, partly, through the compassion and sensitivity with which it deals with the mind-ravaging illness at its core.
 Sensitive, nuanced performances
High production values, including some fine, caressing camerawork by DoP Robbie Ryan, and the draw of the two leads (ably abetted by a couple of extended cameos from Salma Hayek and Laura Linney) will help The Road Not Taken find an audience on a world tour that begins when Bleecker Street release it in selected theatres Stateside starting on 13 March. It's an awkward fit between the arthouse and commercial melodrama, and an out of competition slot may have served it better in Berlin. Skewing towards older viewers, Potter's latest may turn out to lack box-office staying power.
Adapting its title from Robert Frost's much-quoted poem 'The Road Not Taken', the film follows the lead of Still Alice in trying to convey a degenerative mental disorder (in this case frontotemporal dementia) from the inside. But The Roads Not Taken does more than adopt the point of view of Bardem's Leo, who at the start of the film is seen staring into space in his unadorned Brooklyn apartment while his carer Xenia (Branka Katic) rings the doorbell and his daughter Molly (Fanning) desperately attempts to reach him by phone. It goes further, entering the mind of a man who outsiders (including a brusque optometrist) consider to be "not all there".
Over the course of the film's day, we watch as a loving but distressed Molly, wrangles her father to the dentist and to that optometrist, while simultaneously dealing with a work crisis over the phone, What should be a simple task becomes an ordeal punctuated by little incidents that befall the inarticulate, confused Leo – he wets himself, bangs his head, hugs a stranger's dog in the supermarket. What Molly is not seeing, but we are, is where Leo goes when he's not in the here and now. Today, it's two places; a Greek island and some unspecified part of rural Mexico. We soon realise that these sequences spliced into the New York present are not flashbacks, but little imagined stories he's playing on some sort of cerebral projector; stories about who he might have become if he had taken two of those other roads way back then.
Alas, this laudable attempt to show how intensely the light can still burn in the mind of a person who seems to be dimming is compromised by the overwrought melodrama of the Mexican story, in which Leo imagines what would have happened if he had stayed in his native country with his first love, the fiery Dolores (Salma Hayek), and the sheer weakness of the Greek strand, a nothing of a tale that sees a melancholy Leo meeting a young woman (Milena Tscarntke) who reminds him of the daughter he abandoned years before to pursue a career as a novelist. Leo's imagination seems to tend to clichés – Mexican rooms done out in red ochres and sunflower yellows, a blue and white Greek beachside taverna just ready to be Instagrammed – and these alternative outcomes he drifts us off to are far less compelling, in the end, than the father and daughter story that is playing out in the real world.
With their sensitive, nuanced performances, Fanning and Bardem both lift a script that, in the hand of less able actors, would have risked coming across as a grotesquely sentimental. Ryan's gentle handheld camera often homes in on their faces, blurring the background as if to convey the loneliness of each character's ordeal, before pulling back to frame the two sharing, for example, a rare moment of mutual laughter. A string, keyboard and percussion soundtrack composed by Potter herself strikes an unexpectedly jaunty note at times, in a film that, for all its dark subject matter, is suffused by sunlight.
Production companies: Bleecker Street, Hanway Films, BFI, BBC Films
International sales: Hanway Films, info@hanwayfilms.com
Producer: Christopher Sheppard
Production design: Carlos Conti
Editing: Emilie Orsini, Sally Potter, Jason Rayton
Cinematography: Robbie Ryan
Music: Sally Potter
Main cast: Javier Bardem, Elle Fanning, Branka Katic, Milena Tscharntke, Laura Linney, Salma Hayek
All the videos and write-ups to these movies you can find here: