https://www.sbs.com.au/news/abc-announces-probe-into-feminist-q-a-episode-after-audience-complaints?cid=trending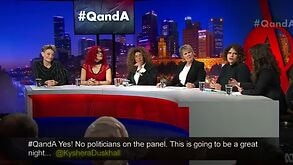 Minister for Communications Paul Fletcher said the decision to investigate Monday night's Q&A program was "appropriate".
UPDATED
"The ABC will investigate whether Monday night's episode of Q&A breached editorial standards after receiving several audience complaints about the language and ideas expressed by the panel.
The entirely non-male panel featured high-profile feminists – Egyptian-American writer Mona Eltahawy, Indigenous screenwriter Nayuka Gorrie, journalist Jess Hill, business leader Hana Assafiri and anti-ageism campaigner Ashton Applewhite – ahead of this weekend's Broadside Festival, hosted by the Wheeler Centre.
ABC Managing Director David Anderson said the intention of the panel was to "present challenging ideas from high-profile feminists" but he acknowledged the program was "provocative in regard to the language used and some of the views presented".
.  .  .  .