Germany is facing a total industrial collapse!
How serious is this?
The Most Revolutionary Act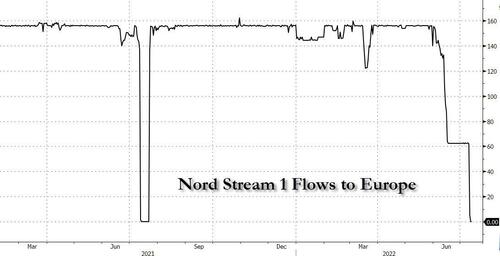 Zero Hedge
Russian natural gas, has started using gas it was storing for the winter after Russia cut deliveries to Europe, increasing pressure on Berlin as the German energy giant needs to be rescued "in a few days."
The country's top buyer of Russian gas started withdrawing fuel from storage sites to supply its customers, the company said in a statement to Bloomberg on Friday. The drawdowns, which began on Monday, will also help the company to save some cash as it has been forced to pay up for gas in the spot market. Meanwhile, flows through the Nord Stream 1 pipeline remain shut for maintenance.
Harald Seegatz, deputy chairman of the supervisory board, said that Uniper needs urgent help, risking insolvency within days.
"We are currently reducing our own gas volumes in our storage facilities in order to supply our customers with gas and to secure Uniper's liquidity," the…
View original post 285 more words