Of course for billionaires security would be extremely important.
. . . . the (bigger) concern appears to be keeping the working class under control.
The Most Revolutionary Act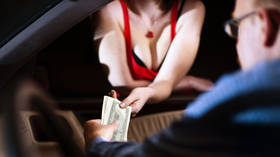 RT
Sexual harassment by wealthy men at WEF is "so common" that female guests are advised not to attend events alone, an Austrian outlet has reported
The Swiss escort agencies near Davos are already fully booked ahead of this year's World Economic Forum, the elite gathering that brings together heads of state, corporate executives, and influential non-profiteers, Austrian outlet Exxpress reported on Sunday, citing a missive purportedly sent from one such agency.
In a message to unnamed hospitality staff and published by Exxpress, escort agency Sensuallounge Escort urges readers to book their "fine selection of ladies and gentlemen" ahead of time to ensure "the best possible care and company during the World Economic Forum."
Sensuallounge reportedly offers "services for all sexual orientations," and the outlet claims one night with one of their employees costs €2,350 (just over…
View original post 285 more words